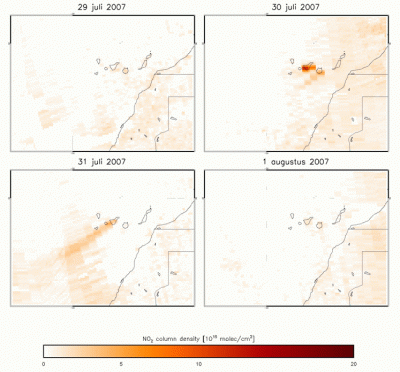 Lby Ruud Dirksen, Ronald van der A
6 August, 2007

The forest fires, raging on the Canary Islands on 30 and 31 July, were clearly visible from space. The resulting smoke plume from these fires has been observed by the American satellite instrument MODIS, as shown in the image below. The MODIS instrument records colour images of the Earth with a spatial resolution of 300 meter. However, by using the Dutch satellite instrument OMI (Ozone Monitoring Instrument) it is also possible to analyse the chemical composition of the plume. The OMI instrument is capable of measuring the concentration NO2, ozone and other trace gases in the atmosphere.
During forest fires the gas NO2 (nitrogen dioxide) is formed. This gas, which is toxic at high concentrations, plays an important role in the creation of smog and it has a direct effect on the air quality in the troposphere. The most important contribution of tropospheric NO2 is human-induced such as traffic, heavy industry, and biomass burning. The concentrations of NO2 above Tenerife as measured by OMI are comparable to those of the most polluted areas in the world.
eer noticia con detalle:
http://www.temis.nl/general/Canary.html