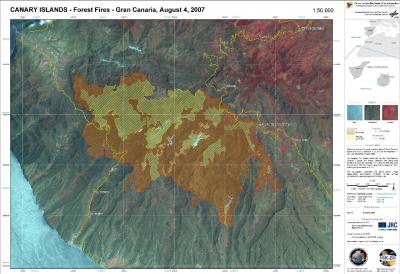 Fires on the Canary Islands, August 2007
The islands of Tenerife and Gran Canaria of the Canary Islands (Spain) were affected by some of the worst forest fires in the history of Spain. The fires forced more than 10.000 people to leave temporarily their homes, some of which were destroyed by the fires. The Spanish Government and the Monitoring and Information Centre (MIC) of the European Commission triggered the International Charter Space and Major Disasters to estimate the damaged area based on satellite data.
The Center for satellite based crisis information (ZKI) of DLR took over the project management for this activation on behalf of ESA, financed through the Risk-EOS Service element. In close cooperation with the European Forest Fire Information System (EFFIS) at the Joint Research Centre (JRC) in Ispra (Italy) the affected area was estimated. According to this analysis on Tenerife 12700 ha were burnt and additional 2000 ha burnt down partially. On Gran Canaria 9900 ha were burnt fully and 5450 partially.
A kml file for displaying the maps in Google Earth can be obtained here.
http://www.zki.caf.dlr.de/applications/2007/spain/139_en.html